At networking events, speaking engagements, in professional offices and more, use the brochure that makes a powerful and memorable first impression...and leads to new business.
---

If you've been handing out business cards and traditional tri-fold brochures, throw them away! They're a WASTE of money!
Both of them typically go right into the trash can because your recipient has nothing to gain from them. Those printed pieces are only about YOU, not the recipient.
Customized Ready2Go Brochures are excitingly different! While we include all the necessary information about you and your services, the bulk of the brochure is a compelling, professionally written, beautifully formatted article that speaks to relevant issues in your prospect's life.
Print them, hand them out and watch the reactions of those who receive them!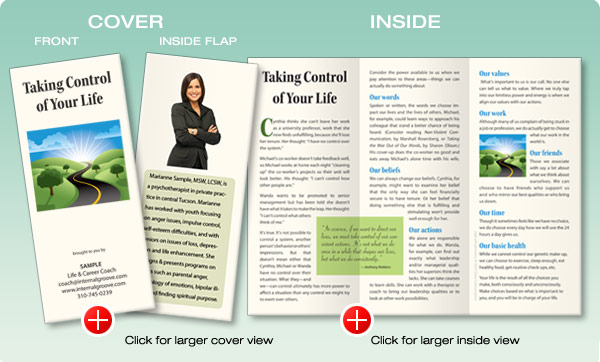 Front panel, inside flap and back panel contain YOUR information.
The article is inside!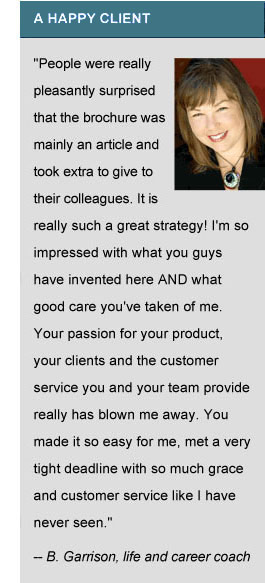 People love receiving Ready2Go Brochures because the content is all about THEM, your audience. Recipients come away with a GREAT first impression of you, and they're more receptive to offers you make from that point on. They may even ask for more to give to friends and co-workers!
Here are just a FEW ways you can use Ready2Go Brochures:
Hand them out at speeches, meetings, workshops, networking gatherings and other in-person events for a WOW impression.
Stack them in your office, other professionals' waiting rooms, coffee shops, libraries, schools, etc.—anywhere your audience of ideal clients gathers!
Send them to current, past and prospective clients to activate and reactivate your client base.
Give them to people INSTEAD OF business cards. These brochures won't be forgotten.
Tack them to community bulletin boards for great local exposure.
Send them to community leaders or other influential individuals.
Start your collection now, and WOW your prospects into hiring you!
Prices below include custom set-up of your branding and marketing material on the brochure front and back, and inside flap. You'll receive a fully customized brochure in PDF format, ready for printing. Reprint from it any time you need more!
Select your Ready2Go Brochures one by one, then use the corresponding coupon code noted below when you check out of the shopping cart.
Only $197 each!

And don't forget: you get to reprint from your Ready2Go Brochure file any time you need more!

Or SAVE $3,701 when you get all 34.

Best use. Amazing deal!
Click on the brochure image for a view of the full article.
Here's how the Ready2Go Brochure process works...
After you make your purchase, you'll receive an automatic response asking that you send your photo, logo, contact info and professional message. We'll format that material on the outward-facing panels of the brochure, so that folks clearly connect you with the helpful info you're providing. The inside contains the beautifully formatted article.
There is no extra fee for personalizing the document with your marketing info...set-up is included in the cost of the brochure!
We'll send you a proof for one round of adjustments and then send you a print-quality PDF of the final document. You may either print your brochures on your own printer and fold them yourself or take them to a copy center or printer! (We recommend the latter.)
In either case, you may print as many copies as you like. And you'll always have the file, when you need to print more!
Stand out from the crowd with Ready2Go Brochures
We're VERY happy to provide you with these beautiful, memorable and effective brochures, and to be part of your marketing support team.
Click here to email us if you have any questions.
708 Gravenstein Hwy North, #268, Sebastopol, CA 95472 | Toll-Free Phone & Fax: 866-200-6945
©2019 Claire Communications. All rights reserved.