Workplace Issues
Below are the articles in the Workplace Issues category. Each article title is followed by a brief summary introduction to the content. Click "Read Excerpt" for a more comprehensive review. Click "Add to Package" to buy or redeem the article.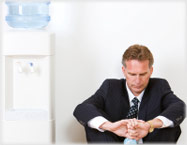 Bring Humor to Work (It's Good for You & Good for Business!)
Humor has numerous benefits in the workplace, creating happier workers and increased productivity.
Bullying on the Job
A workplace bully not only harms the victim, but also the company's bottom line.
Cultivating Serenity in the Workplace and Beyond
Cultivating serenity in the workplace may seem like a tall order, but its formula is simpler than one might think.
Dealing with Change at Work
Change at work impacts us emotionally, physically and mentally. What can one do to minimize change's harm and maximize its gain?
Dealing with Difficult Coworkers
There's one in every workplace—a coworker who annoys, takes credit, steals ideas, backstabs—but that doesn't mean the other workers have to be victims.
Employees' Engagement with Work
A look at the level of employees' engagement and the effect upon business success; what managers can do.
Employing Nondefensive Communication at Work
Communicating non-defensively not only shifts our relationships, but improves the bottom line.
Ethics Are Good for Business
"Ethics" and "integrity" are often discussed, especially over the past decade, with Enron and other corporate scandals having garnered many headlines. But what, exactly, do these terms mean? And how can they be profitable?
How Well Do You Cope with These Common Workplace Challenges?
Doing work that is rewarding and fulfilling also requires the ability to face and overcome obstacles.
How Well Do You Handle Workplace Conflict?
Like taxes, conflict in the workplace is inevitable. That isn't all bad. Handling conflict well leads to many benefits.
How Well Do You Manage Your Emotional Reactions at Work?
Getting "triggered" at work can be damaging to one's career. Through its quiz format, the article shows ways to manage emotional reactions at work.
It's So Easy to Have a Green Office
It's easier than one might think to adopt green practices—and it makes good economic sense.
Oh, the Tales We Tell: Getting Beyond Our Stories at Work
Outlines a path of investigation into the horror stories people tell themselves. It shows how to get beneath those stories to the beliefs and assumptions that really live there, and then offers a strategy for using that self-awareness to free oneself.
The Victim at Work: Are You Playing This Role in Your Workplace?
Playing the victim inhibits success in the workplace. So why does anyone do it? And how can one stop?