Work-Life Balance
Below are the articles in the Work-Life Balance category. Each article title is followed by a brief summary introduction to the content. Click "Read Excerpt" for a more comprehensive review. Click "Add to Package" to buy or redeem the article.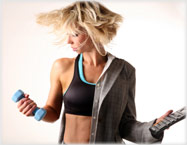 3 Simple Ways to Find Balance in Your Life
Anyone can feel overwhelmed and fatigued when endless demands tug at them from all directions. But balancing life doesn't require massive changes. Here are three simple ways to begin building a greater sense of peace and harmony.
Are You TOO Busy? How Can You Tell?
Many people complain about being too busy, but forget that they have a say in the matter. This quiz offers help and insight.
Best Way to Beat Burnout—Prevent It!
Burnout has more to do with attitudes, work styles, and behavior than with any specific job situation. Article explores warning signs and eight ways to avoid burnout.
Do You Have Workaholic Habits?
There is a clear difference between enthusiastic, energetic work toward a highly valued goal and workaholism. That difference lies primarily in the emotional quality of the hours spent. This quiz will help a person see if he or she has a problem.
Finding the Balance of Competing Devotions
These days, the ultimate question may not be "What is the meaning of life?", but rather, "Where do I find the time?"
Go, Go, Go...on a Break. It's Important!
Three practices for taking a break from a hectic and over-scheduled life help you renew, recharge and refresh—and why it's critically important.
How to Have it All
Having it all is about creating a healthy work/life balance. This article affers ways to bring that about.
Maintaining Balance Is an Inside and Outside Job
Trying to maintain balance in life can make one feel like a tightrope walker, working without a net while the crowd below holds their breath in anticipation of a slip. Thankfully, there's hope.
Overloaded? Try an Information Fast
Stop ingesting information for a week or so and restore balance.
Rest for Success
The need for rest sometimes gets pushed to the bottom of our to-do list—when rest is exactly what we need to perform at our peak.
Take a Tech Detox
The more plugged-in we are to the electronic world, the less we engage in real-life encounters with loved ones—and ourselves. See what "unplugging" can do for your well-being.
Top 10 Ways to Cope with an Increased Workload
Good habits are essential in times of stress created by an increased workload.
Top 10 Ways to Take a Break
Strategies for successfully taking a break from work—and increasing your value.