Time Management
Below are the articles in the Time Management category. Each article title is followed by a brief summary introduction to the content. Click "Read Excerpt" for a more comprehensive review. Click "Add to Package" to buy or redeem the article.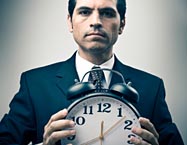 4 Steps to Overcome Your Time Management Troubles
One of the biggest challenges to starting a business and being a successful entrepreneur is always time management. Business owners may do what seems like a million different tasks, making time their biggest enemy.
Are You Too Busy? How Can You Tell?
Many people complain about being too busy, but forget that they have a say in the matter. This quiz offers help and insight.
Claiming the Empty Spaces: The Importance of Idle Time in a Fast-Forward World
Discusses the importance of idle time and offers strategies for carving it out—and protecting it.
Don't Just Manage Your Time, Master It
Rather than training your eye on the calendar, focus on the task.
Getting Things Done—On Time!
If planning is the key to getting things done on time, why is it sometimes regarded as an impossible luxury? Here are some ways to help keep those projects on track.
Making a Better To-Do List
Better task and time management rely not on fancy plans, apps or systems, but on a better to-do list. Here's how to create a better to-do list for better productivity and time management.
Procrastination—Everyone Talks About It, but Nobody Does Anything
Imagine the space this article fills is blank. Imagine the time and energy it might take someone who procrastinates to: 1) think about doing the article 2) put it on a list of "to dos" 3) talk about doing it 4) promise himself he will start it tomorrow 5) promise himself he will definitely start it tomorrow….
Time Is More Than Money—It's Your Life!
Imprisoned by the perception that time is a limited resource, people rush from one commitment to the next, believing they haven't a minute to spare. They yearn for more time, yet feel anxious and guilty when idle. But there's hope.
Time: It's Not How Much You Have, It's How You Chunk It!
You can't add more hours to the day, but you can make better use of the hours you do have.
To Make Time, Take Time
If time were an animal, it would be on the endangered species list. At least that's how it seems: Too much to do, too many places to be, too little time to do it all. But it doesn't have to be that way.