Speaking
Below are the articles in the Speaking category. Each article title is followed by a brief summary introduction to the content. Click "Read Excerpt" for a more comprehensive review. Click "Add to Package" to buy or redeem the article.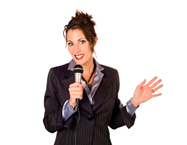 5 Tips to Becoming a Successful Speaker
Many business owners have success developing their businesses using public speaking as a way to get people to "know, like and trust" them all at the same time. But how can someone become a speaker that earns income and builds their business? Here are five tips that can make it happen.
6 Tips for Creating a World-Class Online Presentation
With a little bit of creativity, a business owner can leverage what they already do and have to create an excellent online speaking presentation. This is 6 tips that can help them do that.
Ready for Prime Time: How to Land Bigger (PAID!) Speaking Gigs
A business owner can move into the big time and find some speaking engagements involving bigger audiences and bigger paychecks by following these tips.
Speaking Success Starts with the Right Speaker Mindset
Positive thoughts are the key to achieving dreams and goals in a business owner's speaking career. While being positive isn't the only ingredient and characteristic necessary, it is an essential one.
Speak Up: How to Get More Speaking Engagements When You're First Starting Out
How would a business owner get started when they're new to public speaking? Where can they find that "right audience"? Here are a few places they should consider.
The Solopreneur's Guide to Giving Great Presentations
Many solopreneurs shy away from presentation opportunities due to a fear of public speaking, although there is no more effective marketing than powerfully delivering their message to a rapt crowd. Fortunately, there are effective ways of conquering those fears and putting a presentation to work for their business.