Social Media
Below are the articles in the Social Media category. Each article title is followed by a brief summary introduction to the content. Click "Read Excerpt" for a more comprehensive review. Click "Add to Package" to buy or redeem the article.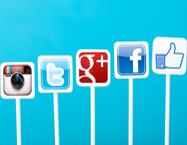 4 Steps to a Powerful Social Media Plan
Social media can be an important marketing tactic, but it's more powerful when there's a plan in place. Find out how to build a social media plan so someone can, and will, follow through.
5 Tips to Improve Your Tweeting
Twitter is now a part of everyday life. Learn how writing a great tweet can help drive traffic, increase awareness, and connect with a target audience.
5 Ways to Help Your Content Go Viral
The idea of viral marketing is that, much like a computer or biological virus, viral content can "infect" users and make them more likely to pass it on to multiple other users. Plenty of average Internet users have created viral content, so for small businesses, going viral is within the realm of possibilities. Here are some steps business owners can take to help their content go viral.
17 Strong Tips for Social Media Success
Like any marketing, it's important for best results to put solid foundations in place. Here are 17 tips to ensure social media shows the results business owners want to see.
How to Avoid the "Cardinal Sin" of Social Media Marketing
The number one rule in content and social media marketing? "Thou shalt not be boring." Find out how to hold a readers' attention and avoid committing the "cardinal sin" in social media and content marketing.
How to Get Started on Facebook
Facebook can be intimidating if someone isn't sure how it works, but it's a great place to get their feet wet in the waters of social media. Here are some steps to getting in on the networking scene.
How to Know When to Leave a Social Media Site
Business owners need to stop wasting time on social media channels that don't produce results. But how would they know which to hang on to and which to get rid of? When should they quit and when should they simply change course and try another method?
How to Use Social Bookmarking to Increase Your Visibility
Social bookmarking sites create connections through the types of content generated by members, which makes it an effective business tool for Internet entrepreneurs especially. So what is social bookmarking, how does someone use it, and where do they begin?
Should You Advertise on Social Media Sites?
Would advertising on a social media site be beneficial for business? It depends on a number of factors unique to that particular business owner. Here's how they can find out if advertising on social media is right for them and where to start.
Should You Outsource Your Social Media?
There are many business owners that simply don't understand social media. How many "likes" should they receive with the amount of money they spend? What amount of time should they be spending on social media? What should they be doing? If they don't have confidence in their social media capabilities, they might consider outsourcing it.