Organizing
Below are the articles in the Organizing category. Each article title is followed by a brief summary introduction to the content. Click "Read Excerpt" for a more comprehensive review. Click "Add to Package" to buy or redeem the article.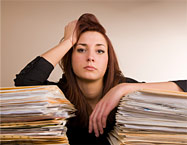 Are You Sabotaging Yourself?
Habitual lateness. Extreme disorganization. Not following up sales leads. This quiz helps to identify how we might be sabotaging our own efforts.
Creating Systems for Success
Most of us run our lives with a handful of systems, but don't take advantage of how systematization could improve productivity, gain customers, and more.
Organize Yourself for Success
Demonstrates the connection between organization and success and also offers a detailed strategy for implementing—and maintaining—an effective organizational system, including the laser-focused approach that successful executives employ to dispense with clutter.
The Ultimate Act of Self-Care: Clearing Clutter
How can clearing clutter lead to a better life? Clearing away physical clutter often has the unexpected effect of clearing away emotional clutter, too, that may be holding us back from our heart's desire.
"Tolerations" Take a Toll
What do a boss who's always yelling at you, your mate's over-spending habits, a cluttered house or office, tight shoulders and a ho-hum (or bad) relationship have in common? They're all tolerations, those little or big things we put up with—often without realizing it—that sap our energy and drain our life force.
Top 10 Ways to Improve Your Work Environment
Ten tips for enhancing one's surroundings at work.