Journaling
Below are the articles in the Journaling category. Each article title is followed by a brief summary introduction to the content. Click "Read Excerpt" for a more comprehensive review. Click "Add to Package" to buy or redeem the article.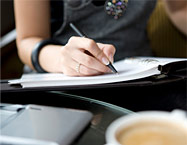 Journaling to Grow and Thrive
As long as there has been something to write on, humans have been keeping journals. You could even say that the earliest cave drawings were journals. What are the benefits of keeping a journal? And how does one begin?
Journaling Your Way Through Personal Crisis
There's more than one way to journal. Here are five formats, each with a different application.
Top 10 Ideas for Journaling
Ten ideas for tapping our inner wisdom through journaling.
Top 10 "Top 10" Lists to Create
Top 10 lists are everywhere, fulfilling the desire for bite-sized, digestible morsels of learning or humor. Here, then, is an opportunity to create ten of one's own.