Gratitude / Giving
Below are the articles in the Gratitude / Giving category. Each article title is followed by a brief summary introduction to the content. Click "Read Excerpt" for a more comprehensive review. Click "Add to Package" to buy or redeem the article.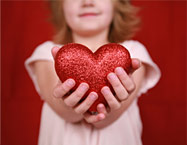 Cultivating a Family Attitude of Gratitude
Gratitude is a way of looking at things that balances us and gives us hope.
Don't Miss a Step: Take Time to Celebrate!
The important fifth step in achieving a goal is too often left out.
Legacy: What Are You Leaving Behind?
Many of us are asking: "What am I here to contribute?" But we can take that question still further: "What is the legacy I want to leave behind when I'm gone?"
Living and Loving from Gratitude
Long considered a virtue, gratitude is now also a tool for a happier life.
Putting Grace Into Action
A mother receives a gift of much-needed food and immediately shares it with another hungry family. Is she a saint whose act normal people couldn't hope to match? Nope, she's just an ordinary person doing an act of extraordinary importance.
The Business of Gratitude
Gratitude not only feels good—it's good for business. Some ways to put gratitude to work for you.
Top 10 Things to Be Grateful For
A person may feel grateful for her health, safety, and loved ones. But what about the less obvious things that are all around?