Exercise
Below are the articles in the Exercise category. Each article title is followed by a brief summary introduction to the content. Click "Read Excerpt" for a more comprehensive review. Click "Add to Package" to buy or redeem the article.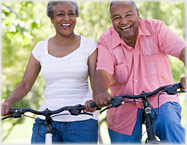 Add Play to Take the Routine Out of Exercise
What can one do when boredom seeps into one's exercise routine? Incorporate play.
An "Exercise" in Vitality: The Missing Ingredient in Vital, Vibrant Living
We all know the benefits of exercise. Why, then, do we resist doing it?
Move Your Body, Move Your Soul
Drop the word "exercise," throw out the term "physical education" and stop cowering when you hear "dance." Replace those loaded terms with the sheer joy and simple pleasure of moving your body.