Creativity / Play
Below are the articles in the Creativity / Play category. Each article title is followed by a brief summary introduction to the content. Click "Read Excerpt" for a more comprehensive review. Click "Add to Package" to buy or redeem the article.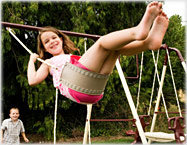 Add Play to Take the Routine Out of Exercise
What can one do when boredom seeps into one's exercise routine? Incorporate play.
Healing With Poetry
For years the prospect of poetry filled millions with dread. Either it meant crushingly long epics that put students to sleep, or it was so filled with hidden meaning that only professors and graduate students could understand it. The times—and poetry—have changed.
Relieve Stress Through Creativity
Stress tends to go out the window when we let our creativity free.
The Call to Create
Like the body's urge for motion and the human need for connection, the spirit longs to express itself through creativity.
The Serious Importance of Play in Our Lives
Many of us feel we have less leisure time and fewer unstructured "play" hours than ever; yet, play is vital for good mental and physical health.