Career Change
Below are the articles in the Career Change category. Each article title is followed by a brief summary introduction to the content. Click "Read Excerpt" for a more comprehensive review. Click "Add to Package" to buy or redeem the article.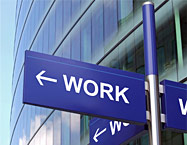 Accessing the Power of Meaningful Work
In an interview late in his life, the psychologist Sigmund Freud was asked to expound on what he felt were the most important constituents of life. His answer? "Liebe und Arbeit." Love and work.
Are You "On Purpose?"
Is your life being lived on purpose or just "to pay the bills?" This quiz offers questions to find the answer.
Being Big in Your Life—If Not Now, When?
This article looks at what is in the way of creating the life you want NOW.
Creating What You Want In Life
Designing and building the life you want—these steps can help guide you along that path.
How to Reinvent Your Career
It is said that necessity is the mother of invention. This article offers ways to reinvent yourself and your career in uncertain times.
How to Try on—and Actually Get—the Life of Your Dreams
How do you turn what you say you want into what you actually get?
Job Transition: Why the First Few Months Are Critical
He got the job; the hard work is over. Right? Wrong. Getting hired is just the first step.
Overcoming the Obstacles to Midlife Career Change
Making a career change in midlife can bring new energy and joy, so what's stopping us?
Starting Your Own Business
What you need to "be" and "have" in order to successfully navigate your own business.
The Business of Purpose
Know your purpose and you will create a meaningful life AND make a living.
The New Age of Retirement
Break free of the stereotypical definition of "retiring" and see how to bring meaning, health and wellness to your golden years.
Top 10 Ways to Get the Job
There's more to getting the job you want than having the best résumé. Here are ten strategies that work.
Top 10 Ways to Light a Fire Under Your Career
Good habits and effective behaviors that will recharge your career.