Body Issues
Below are the articles in the Body Issues category. Each article title is followed by a brief summary introduction to the content. Click "Read Excerpt" for a more comprehensive review. Click "Add to Package" to buy or redeem the article.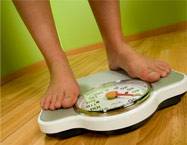 Addictive Eating: Are You Powerless Over Food?
Identifies the common markers of addictive eating and the reasons behind this compulsive behavior.
Aging Well by Eating Well
How simple changes in your diet now can exert a major influence on how well you age into your golden years.
Body Image—It's Not What You See, But How You Feel
Poor body image is pervasive, but with some effort we can learn to love our form.
Food Doesn't Have to Be a Four-Letter Word
How did one of our most basic needs become the enemy?
How Well Do You Love Your Body?
On hot summer days, when bodies are more on display, a person may feel vulnerable if his or her body isn't a perfect 10. But this quiz teaches that obsessing on one's perceived flaws is counter-productive.
Keeping the "Healthy" in Food
Practical tips to ensure that the food you eat is as chock full as possible of healthy enzymes, vitamins and minerals.
Learning to Live With (and Love) Yourself
Mary thinks she'd be happy if she could just change her weight, her looks and her job. Sean believes that he's an okay person except for his anxiety, impatience and quick temper. But would "self-improvement" really make them happier?
Listening to Our Bodies: They Know More Than We Do!
The body holds much of the information we need to function at our best, but too often we ignore its messages and plow ahead with what our minds tell us.
Mirror, Mirror on the Wall: How Your Body Image Could Be Harming You
Having unrealistic expectations about what our body should look like can be an underlying cause of issues in virtually every area of life. By acknowledging the impact of body image on our lives, we can refocus our lens and keep a healthy view of what we see.
Move Your Body, Move Your Soul
Drop the word "exercise," throw out the term "physical education" and stop cowering when you hear "dance." Replace those loaded terms with the sheer joy and simple pleasure of moving your body.
Self-Acceptance is an Action
Self-acceptance means being for oneself, not against. It's about accepting shortcomings as well as strengths. And it's vital for growth and change.
Top 10 Ways to Eat Healthy Every Day
A comprehensive list of 10 ways to eat healthy every day on your way to becoming a "new you." This list is good for those wanting to lose weight or improve health.
Top 10 Ways to Practice Acceptance
Ways to practice self-acceptance and deepen your understanding of yourself.