Blogging
Below are the articles in the Blogging category. Each article title is followed by a brief summary introduction to the content. Click "Read Excerpt" for a more comprehensive review. Click "Add to Package" to buy or redeem the article.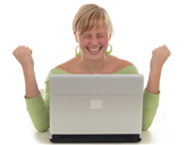 3 Simple Actions to Boost Traffic to Your Blog
Three simple and easy steps that business owners can take today to start driving more traffic to their blog.
7 Benefits of Using Wordpress for Your Blog
A list of several great reasons why more business owners than ever are choosing Wordpress as their blogging platform of choice.
7 Must-Have Features for Your Blog
Blogs are a great way for business owners to grow their business and build relationships with potential clients. However, even the biggest blogs can make the mistake of overlooking important features. Find out what must-have features their blogs may be missing.
12 Ways to Increase Your Blog Traffic
A dozen ideas for getting more traffic to a blog—or a website.
Create a Habit of Blogging for Online Success
Tips for creating a blog posting routine to ensure posts stay consistent and achieve the desired results.
How to Find Topics for Articles and Blog Posts
Somewhere along the line, most people experience difficulties coming up with new ideas and topics to write about. Here are some tips on how to break through that wall known as "writer's block."
How to Get Your Articles and Blog Posts Read
Getting content written is half the job, getting it read is the other half. With so much time and energy spent creating content, don't let it go unnoticed. These tips will help pull readers into a website and get that content read.
Pages and Widgets that Every Blog Should Have
There are a few pages that every blog should have. These pages will give readers an idea of who the blog's owner is, what they blog about, will help readers navigate their website, and some are even required for regulations. Find out what pages every blog needs that may be missing.
Use Your Blog for Higher Search Engine Ranking
A blog is a free marketing tool that many business owners don't take advantage of and it can help them achieve higher search engine rankings. Help their blog live up to its full potential and start achieving better rankings for their business website.