Blame / Forgiveness
Below are the articles in the Blame / Forgiveness category. Each article title is followed by a brief summary introduction to the content. Click "Read Excerpt" for a more comprehensive review. Click "Add to Package" to buy or redeem the article.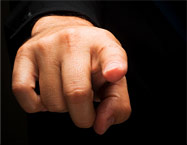 Are You Playing the Blame Game?
When things go wrong, blame is an easy way of taking the spotlight off oneself and shining it on others. This quiz will help determine if one is playing that game. Click here for an excerpt from the quiz.
Healing the Roots of Self-Hatred
You may never silence the voice of self-hatred completely, but it is possible to lessen its impact, and find relief and healing.
Letting Go: Great Idea. How Do I Do It?
A woman's husband had an affair 15 years ago and even though they've been divorced for seven, her stomach still knots up when she thinks about it. She knows she should let it go, but she just can't. How might she begin?
Repairing a Relationship After an Affair
Article explores the impact of an affair on both parties, offers ways to assess whether the relationship can be repaired and, if so, how to begin.
Resentments and What to Do with Them
Some people spend hours dwelling on the wrongs done to them, the injustices, the slights, the snubs, insults, indifferences, slurs, and just plain bad treatment. But holding onto resentment eats away at self-esteem and peace of mind. What can a person do to free him- or herself?
The Deepest Act of Forgiveness: Forgiving Yourself
For many people, forgiving others is liberation from anger and grievance that leads to a richer and happier life. But psychologists and others in the helping profession say there is an even deeper peace to be found through what might be the hardest act of all—forgiving ourselves.
The Road to Forgiveness Is a Journey Toward Freedom
Forgiveness isn't something we do for someone else; it's a process for healing ourselves.
When the Name of the Game is Blame, No One Wins
Whether we fabricate unbelievable excuses or blame others for what happens to us, we give up not only responsibility for our lives, but also our power.