Becoming an Author
Below are the articles in the Becoming an Author category. Each article title is followed by a brief summary introduction to the content. Click "Read Excerpt" for a more comprehensive review. Click "Add to Package" to buy or redeem the article.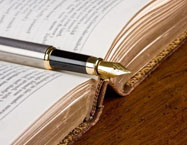 8 Steps to an Ebook
Ebooks are a valuable business building tool that many client-based professionals are using for opt-in freebies and passive income. However, some business owners feel it's too big of a task to take on. Following these 8 tips can simplify the process and get them writing their first ebook.
How to Get Testimonials for Your Book
It's not enough to just publish a book, there's marketing involved in order to sell it. Testimonials are a key ingredient in any marketing strategy. Find out who gives the best testimonials and how to get them.
How to Publish a Book on Kindle
Publishing a book on Amazon can make them available to a much wider audience. Discover how to publish a book on Kindle and some things that require consideration first.
The Powerful Business Benefits of Writing a Book
Writing an ebook can boost any kind of business, but most business owners may not consider these other powerful benefits writing an ebook can bring.
Write a Book, Market Your Business
Books offer significant return on investment and can be used as a great marketing tool. Here are some great ways to use a book to market a business.