Addictions
Below are the articles in the Addictions category. Each article title is followed by a brief summary introduction to the content. Click "Read Excerpt" for a more comprehensive review. Click "Add to Package" to buy or redeem the article.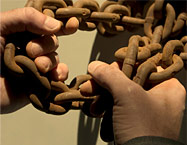 Addictive Eating: Are You Powerless Over Food?
Identifies the common markers of addictive eating and the reasons behind this compulsive behavior.
Codependence: What's My Responsibility?
Codependency is a learned condition, which means it can also be unlearned. This article offers ways to begin.
Do You Have Workaholic Habits?
There is a clear difference between enthusiastic, energetic work toward a highly valued goal and workaholism. That difference lies primarily in the emotional quality of the hours spent. This quiz will help a person see if he or she has a problem.
Holiday Drinking—When the Party's Over but the Drinking Isn't
The holidays are a time of More. More parties, more social gatherings, more celebrations. And more drinking.
Internet Addiction
Every day, millions of people come home from work or school, boot up their computers and enter a world we wouldn't have dreamed of twenty years ago. It's a world that brings up new issues as well as old ones in new garb.
Recovering from Debt Addiction
Tips for finding the roots of debt addictive behavior, to improve finances, and get in control.
Self-Talk's Role in Addiction Relapse
"I'll just have one. It's no big deal." But it is a big deal, and in no time, the decision to quit an addiction has fallen by the wayside.
Sex Addiction
Causes of sexual addiction, as well as recovery tips for sex addicts and those who love them.
Summertime Drinking: When Is It a Problem?
Summer brings more leisure time, longer daylight hours—and more drinking. When does increased drinking indicate a problem?
Top 10 Addiction Clues
How can a person know if a loved one has an addiction? This article lists ten common signs.